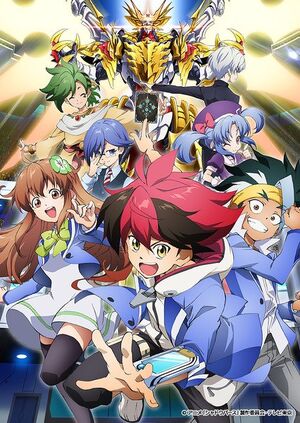 The anime adaptation of the Shadowverse game by Studio ZEXCS premiered on April 7, 2020.
Hiro Ryūgasaki is an ordinary middle school student at Tensei Academy. Through a strange occurence, Hiro obtains a mysterious smartphone withe the popular digital card game "Shadowverse" app installed. Through the game, Hiro meets rivals,meets new friends, participates in tournaments, and forms bonds with others.
Director: Keiichiro Kawaguchi
Series Compositor: Rintarō Isaki, Deko Akao
Original Character Desing: Ponzu, Soji Hisakata
Music Composition: Yoshihiro Ike
Sub-Character Design: Yasunari Nitta
Follower Design Chief: Daisuke Kitagawa
Battle Concept Design: Seishirō Nagaya
Prop Design: Yoshinori Iwanaga
Color Design: Naoko Satou, Nanae Shinaji
Art Director: Kuniaki Nemoto
Art Setting: Nobuhito Sue, Shūhei Tada
Special Effects: Team Taniguchi
Monitor Graphics: flapper3
3DCG Director: Takahiro Kamiya (Aera Laboratory), Keisuke Kawatani (DEEN digital)
Director of Photography: Shigeki Asakawa
Editing: Daisuke Hiraki
Sound Director: Satoki Iida
Sound Production: Sonilude
Opening: Kirifuda, by PENGUiN RESEARCH
Ending:
The Plot of the Genius Among Geniuses
Something Special
Fierce Battle! Hiro vs. Kazuki!
The Reason For Strength
Aim for Master Rank!
The National Tournament Finals Begin!
The Curtain Rises! A Beautiful Witch Show!
Mauro's Spellcasting!
Hiro vs. Luca!
Who Will Claim Victory?
The Shadow Grand Prix Begins
A Mouthwatering Battle! Marcel Tabeoka!
Super Rich! Miyabi Zaizenji!
An Invitation to the Underworld! The Joubert Sisters!
Special And Ordinary
References
Edit
External Links
Edit
Community content is available under
CC-BY-SA
unless otherwise noted.